– ABOUT SURROUNDINGS –
Drawing from the unique characteristics of each project and client, Surroundings creates environments for living that are beautiful, elegant, interesting and timeless.
– OUR PHILOSOPHY –
We consider design to be a
problem-solving endeavor.
Each project is a puzzle with many qualifications and constraints and one simply elegant solution.
Our design team is passionate about implementing ideas that satisfy all of the client's needs, not our own design ideals.  Our role is to uphold the client's intent as we move the project forward toward a unique result.
Aligned with this problem-solving exercise, we also guide our clients through the maze of material selections, budgetary concerns, structural requirements, color philosophy and functional needs, ultimately guiding each client to the ideal design solution.
Our Story
Surroundings Inc. is based in Superior Twp, Michigan.  We provide our clients with a variety of design services and solutions for projects of any size.  As professionally trained designers, it is our responsibility to provide our clients with insight into the latest design innovations and products while maintaining a focus on the unique style of each individual.  We have a special interest in environmentally responsible design, and the use of these products to create elegant livable spaces.  Our attention to each client's needs and desires ensures that every design solution is innovative and unique.  As a small firm of professionally trained designers, we have the ability to provide hands-on, principal involvement from start to finish. We listen to both the goals and concerns of every client, and strive to make each project the clear embodiment of their dreams, desires and needs.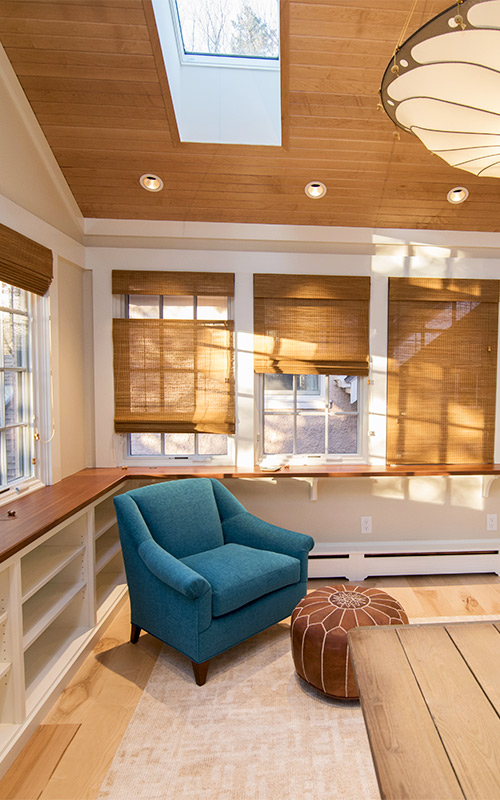 "Acadia Hahlbrock has the right balance of great design sense and perceptive listening."
-Surroundings client, Ann Arbor, Michigan
Our Leadership
 Acadia Hahlbrock is a graduate of Eastern Michigan University, holding accredited degrees in both Interior Design (B.S) and Fine Art (B.A.) with minors in Graphic Design and Psychology.  Acadia gained experience in many facets of interior design through a series of internships and design positions spanning several years before establishing Surroundings Interior Design, Inc. 
When she's not in the studio Acadia enjoys triathlon training, perennial gardening, and visiting national parks with her daughter, husband, and their wild agility dog.
Our role is to uphold the client's intent as we move each project forward toward a distinctive result.